How To Choose The Best Eyebrow Tweezers
Date Posted:13 October 2022
Did you hear the phrase "When looking for the best tweezers, relax because there are no ideal tweezers"? Based on the individual characteristics of your eyebrows and personal preferences, you need to choose the tweezers you are most comfortable with. To help you navigate the world of tweezers, this article explains the principles of manufacturing high quality tweezers and how different tips meet specific eyebrow plucking needs.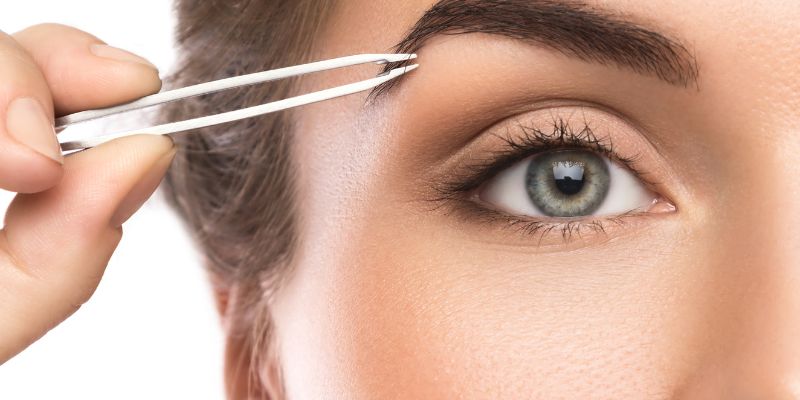 Quality is the most important factor you need to consider when buying eyebrow tweezers because it defines how the tweezers will perform and how long they will last.
Traditionally, eyebrow tweezers made from fine stainless steel top the list because they are more durable and can be sterilised and kept in humid environment, e.g. a bathroom.
Eyebrow tweezers by ZOHL in our collection are made from surgical grade stainless steel without any nickel making them an ideal companion for sensitive skin. The beauty of using professional steel is that it undergoes multiple tempering steps and becomes very hard. This allows high precision honing of the tips and ensures life-long lasting service every time your eyebrows need some maintenance.
Perfect alignment of the tips is a must for tweezers claiming high quality. The tips that meet precisely grab the hair at the bottom and pull it out without breaking or cutting (common problem with cheap tweezers).
Professional tweezers also feature non-slip handles and do not require any effort to squeeze.
No wonder why so many brow experts in Australia trust ZOHL to shape their clients' eyebrows beautifully, and we are sure that you will be delighted with the quality of ZOHL tweezers, too.
Let's now talk about the different types of tweezers.
Tweezers with fine points are ideal for removing splinters, tiny or very thin hairs. The tips of these tweezers are very sharp and allow you maximum precision, to isolate specific hairs or handle a very short hair. Ensure you have plenty of light (natural light is preferred), good vision and steadiness of your hand, to use them safely though. Pointed tweezers require good hand-eye coordination and in return, they award you with eyebrow shaping in the most professional style.
Advantages: The pointed tip is ideal for precision tweezing, pulling out individual fine hairs or ingrown hairs.
Tweezers with straight tips are much more forgiving than pointed tweezers thanks to the larger surface of the edge, and are less likely to pierce or scratch your skin. They are equally well-suited for beginners just learning how to use the tweezers and for those who have been tweezing for many years. Held at the straight angle, these tweezers are designed to give you a firm grip. And it is particularly good at targeting and removing individual and coarse hairs – enabling the so-called "search and pluck" technique.
Advantages: Straight tweezers are ideal for removing stray hairs or plucking several hairs at once.
Tweezers with slant tips are the most popular tweezers as they blend the precision of pointed tweezers with the "search and pluck" advantages of the straight ones. The pointed tips allow you pinpoint accuracy when removing small or fine hairs, while the oblique edge – with a slight adjustment of the hand – gives you the ability to pluck coarse or stubborn hairs. Compared to the tip point, the slant tip gives you more speed.
Advantages: Slant tweezers are the most versatile style and allow you to pull the hair out of its root, as well as reach for a specific hair.
Tweezers with claw tips are a popular choice for removing unwanted bodily hairs after waxing or from larger, flat surfaces, such as the chin. Arched tips are designed for greater grasping control and allow you to get as close to the root as possible, to get rid of the most stubborn or coarse hairs quickly and efficiently.
Advantages: Claw tweezers allow you to remove difficult to reach hairs and pluck hair close to your skin without piercing it.
Tweezers with rounded tips are perfect if you have sensitive skin or if your hands are not as steady as they once were. The rounded edges mean there are no sharp corners and you can hold them at any angle that is right for you. High quality rounded tweezers are gentle on the skin and feature precision ground tips able to grasp the hair and hold it until you pull it out.
Advantages: Rounded tweezers are a "kinder" type of tweezers and are a great choice for anyone who is less comfortable with extremely sharp edges.
If you are a regular user of tweezers – whether to remove facial or bodily hair – browse our German manicure sets as each one of them comes with professional ZOHL tweezers protected in an individual pocket for longer lasting service and convenience.